Download the Senior Living Checklist!
Know what questions you should ask when searching for the right senior living community.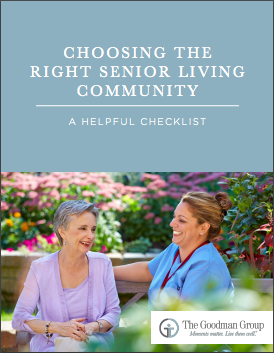 Making the move to a senior living community is a major decision, but it doesn't have to be stressful or overwhelming. The first step is knowing the right questions to ask when searching for a community.
Complete the form to gain access to this helpful checklist for choosing the right senior living community.
Questions cover the following topics:
Atmosphere
Physical Features
Safety and Security
Transportation
Meals and Snacks
Apartments and Availability
Needs Assessment, Cost, and Finances
These are the important questions to ask so you can make the decision that is best for you and your family.